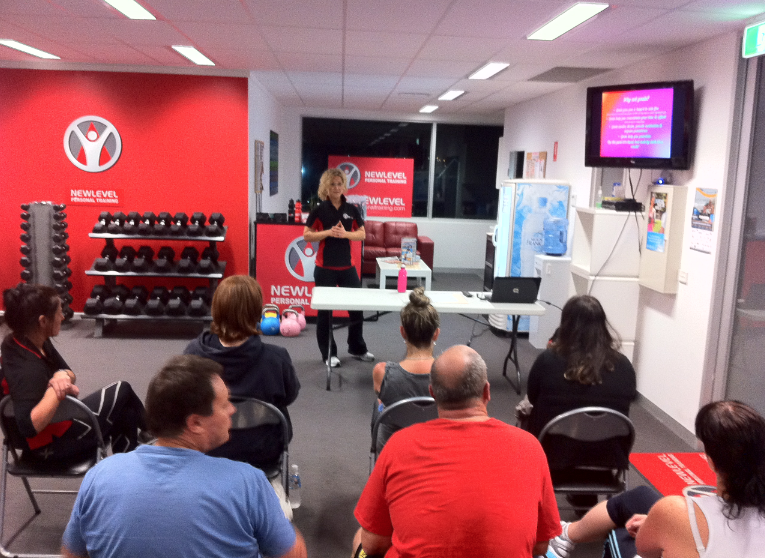 The New Level Personal Training studio in Newtown, Geelong staged an extremely successful personal development seminar on Monday 16th of April. The evening session, entitled 'Get off the Hampster Wheel of Life!' was the second of a regular monthly series of health and personal development seminars for clients and the general public.
Although well attended, it's nonetheless a shame that more people werenít in attendance to hear what New Level personal trainer Kelly Hill had to say about the importance of goal setting and how to best go about achieving it.
"Goals give you a target to aim for in life," Kelly told the enthralled audience, ''if you make goals on a subconsious level, you effectively become a passenger in life. If you concsciously go about setting your goals, however, you become the driver. The driver of your own destiny".
Kelly explained how goal setting can be quite a daunting and overwhelming task, so that's where short term and long term goals come into play.
It was at that stage that Kelly ripped out one of many clichees she would use during the course of the evening.
"By a yard it's hard, by an inch it's a cinch!"
Kelly went on to explain that before setting a goal, you need to tap into the "why" – why you want to achieve what you have set out to achieve.
Towards the end of the short yet highly informative seminar, Kelly staged a short practical exercise which included setting a long term goal by in the process setting a series of short term goals.
To go about establishing and identifying a goal you would like to achieve, use Kelly's "SMART" philosophy of goal setting….
S – specific
M – measureable
A – achievable
R – relevant
T – timebound
The next instalment of the monthly seminar series will be held on Monday 14th of May at the studio at 7pm. The topic will be the importance of supplements in our everyday diet.
Special guest presenter will be John from GNC Westfield Geelong, who will talk about protein powders, male and female multi-vitamins, omega 3 fatty acids and will also stage a taste test and provide a few giveaways and specials.
To reserve a spot, call Jen or Tonci at the studio on 5298 2601.