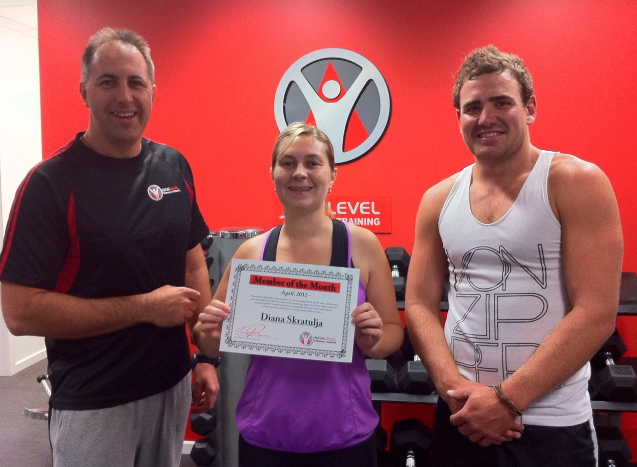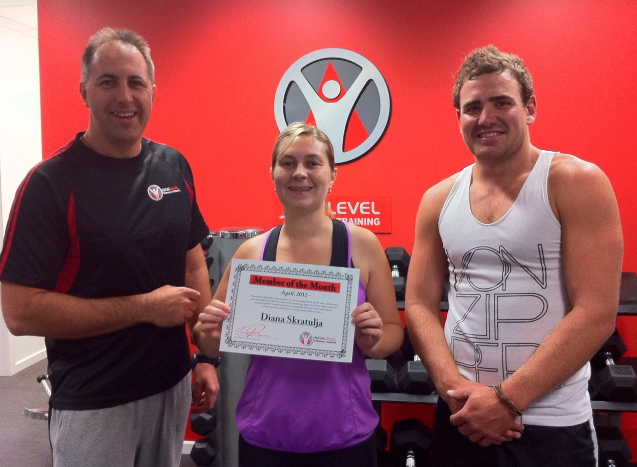 pictured – New Level manager Tonci and Personal Trainer Tim with a jubilant Diana Skratulja
It's always a nice feeling when family, friends and work colleagues start to notice a change in one's body shape. Especially when that comes from people you haven't seen for awhile. That usually occurs around one of the two festive seasons in the year – Christmas or Easter.
At a recent Easter function, Diana Skratulja couldn't believe the comments she was getting from several long time friends and acqaintances she had not seen for ages.
"Wow, you look fantastic!", "Have you been working out?" and "What have you done to yourself?" are just some of the comments that were thrown Diana's way.
Needless to say, the hard work, dedication and a new found appreciation of the importance of good nutrition has certainly paid of for Diana, who was this week awarded the prestigious New Level Newtown "Client of the Month" award.
Having been one of the Geelong studio's original Foundation members, Diana's results speak for themselves. Since her last Results Week weigh-in, Diana has lost a further three kilos to add to her previous impressive achievements.
She lost a staggering 6cms off her chest, 3.5cm off her already tiny waist and a further 2cm off her hips. Added to that, Diana has always identified her arms – and most notably her triceps – as something she would like to address. Well, in the past two months, she certainly has done that, losing a whopping 2cm off her arms!
What's more, she blitzed her physical challenges like no other month, shaving 44 seconds off her best time for a 2km bike ride and improving her 1km treadmill run by just over a minute. Amazing!
Is it any coincidence, therefore, that Diana attended our studio's first monthly seminar in March, entitled "Real food for real people for real results". She has since signed up for the Nutrition Complete online nutrition service, which is obviously reaping great results for Diana.
A proud mum of three gorgeous but energetic children, she needs to be in shape to keep up with her busy lifestyle and this 'Yummy Mummy' is now setting an excellent example, not just for her family but for all the other New Level clients as well, which has certainly not gone unnoticed!
Well done, Diana. Keep up the good work!